Men's T-shirt STRELA
Slovenská Strela – cherry-coloured beauty with a golden roof, born in July 1936. The ancestor of today's Pendolino that turns the head of many railway workers for its timeless design.
Category

:

Men's T-Shirts
Gender / user

:

Men
Item type

:

T-Shirt
Machine type

:

Motor unit
Power

:

Diesel
Color: Dark Blue, Size: S
IN STOCK
| 455/S
Color: Dark Blue, Size: M
IN STOCK
| 455/M
Color: Dark Blue, Size: L
IN STOCK
| 455/L
Color: Dark Blue, Size: XL
IN STOCK
| 455/XL
Color: Dark Blue, Size: XXL
IN STOCK
| 455/XXL
Color: Dark Blue, Size: XXXL
IN STOCK
| 455/XXX
What made it unique?
The electromechanical power transmission, which allows it to move off with an electric drive and switch to a mechanical drive once it accelerates. This idea came from Josef Sousedík – the Wallachian Edison – a genius inventor and hero who deserves our respect and attention.
The railcars were operated on the regular line between Bratislava – Brno – Prague and reached an average speed of about 90 km per hour. The travel time was 4 hours and 20 minutes and the train stopped only in Brno. Thanks to its speed, the travel time in the steam era was reduced by an hour, and those who wanted to enjoy the speed and comfort had to reserve a seat for the first time in history.
After the division of Czechoslovakia in 1939 into Protectorate of Bohemia and Moravia and Slovak Republic, Slovenská Strela stopped operating. During World War 2, the pair of railcars was stabled due to lack of fuel.
And how did it turn out? Unfortunately, only one survived. The M 290.001 railcar was retired in 1953 and scrapped after a fire. The M 290.002 railcar was retired in 1960 and handed over to the Tatra Museum in Kopřivnice in the same year.
The repaired M 290.002 railcar should reappear on the tracks in a great celebration in the autumn of 2020. Let it bring joy to all railway enthusiasts and become a legacy of such an important history. Hats off to everyone who took part in the restoration work, who master the crafts of our ancestors and are simply skilful.
NOT SURE WHAT SIZE TO CHOOSE? LET US HELP YOU.
Find a meter. Take your favourite T-shirt out of the closet and compare it with our size chart.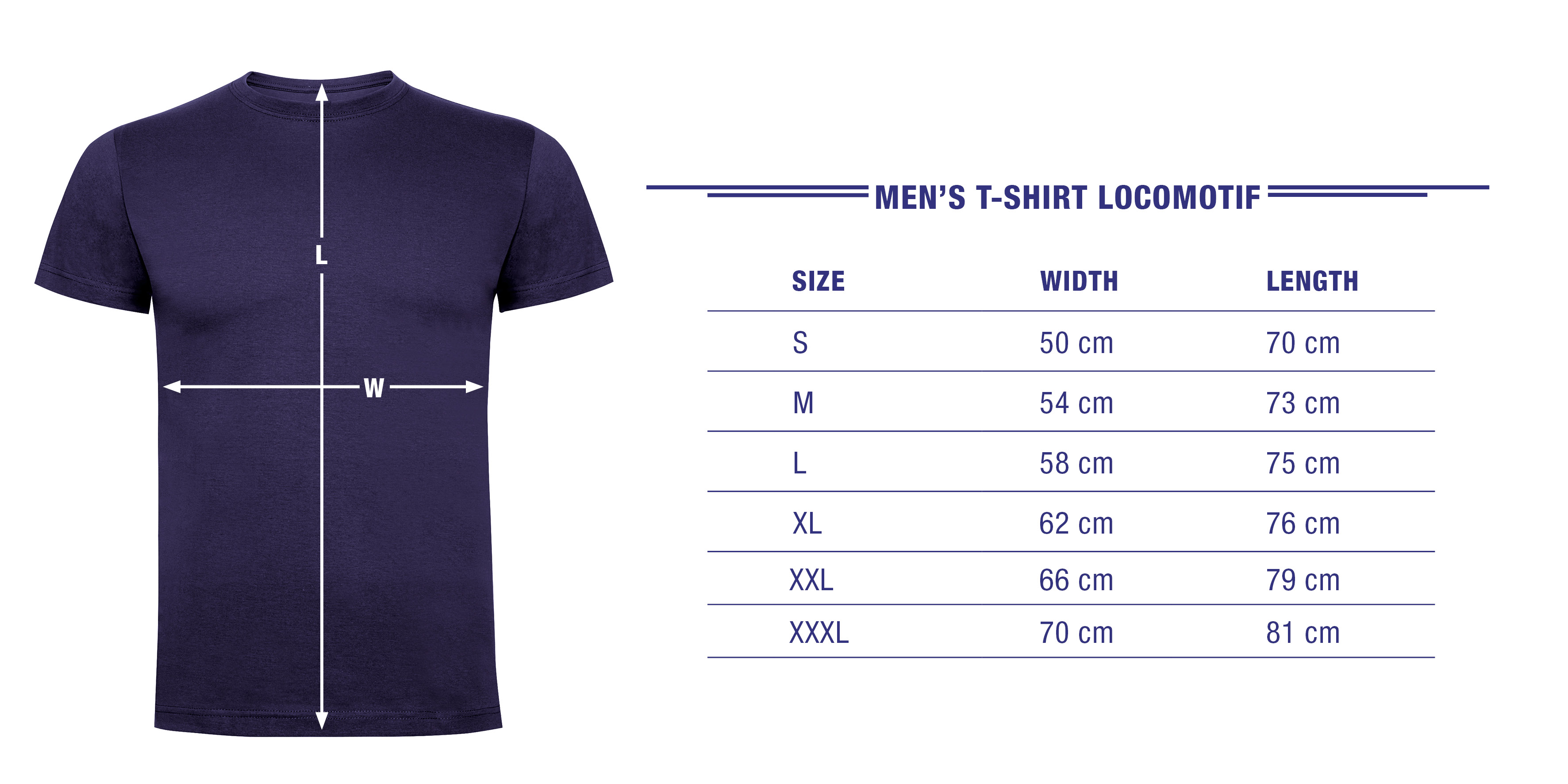 T-SHIRT DESCRIPTION:
T-shirt pleasant to the touch, in which you will feel comfortable thanks to its composition and smooth knit, whether in summer or winter. The T-shirt has a reinforced four-layer neckline and reinforced seams on the shoulders, which ensure that the T-shirt keeps its shape even after multiple washes. T-shirt that must not be missing in any closet of a train enthusiast.
Material: 100% cotton
Weight: 165 g/m2
Colour: dark blue
Front side: Locomotive print
Back side: Small Locomotif logo print
MK
Marc Kukowsky
Das T-Shirt sieht tut aus und passt sehr gut.
Locomotif is our own brand we use for all items in this e-store.
We are focused on high-quality materials, original graphic design and durable printing techniques.
Apparel fabric standards: OEKO-TEX STANDARD 100, OSC 100, ILO and other