Men's T-shirt BANGLE
Originally the 742 locomotives were created as a short-term solution before new machines were about to arrive. In the end, the 742 – nicknamed "Bangle" - became the most frequent machine in former Czechoslovakia.
Category

:

Men's T-Shirts
Gender / user

:

Men
Item type

:

T-Shirt
Machine type

:

Locomotive
Power

:

Diesel
Color: Dark Blue, Size: S
IN STOCK
| 617/S
Color: Dark Blue, Size: M
IN STOCK
| 617/M
Color: Dark Blue, Size: L
IN STOCK
| 617/L
Color: Dark Blue, Size: XL
IN STOCK
| 617/XL
Color: Dark Blue, Size: XXL
IN STOCK
| 617/XXL
Color: Dark Blue, Size: XXXL
IN STOCK
| 617/XXX
The situation in the 1970s was complicated. Steam was fading away, being replaced by diesel. The railway system needed new locomotives. The expected 735 series was delayed, the 740 for industrial use was too heavy. The requirement for mid-heavy engines became so strong, that ČKD machinery moved on with some quick adjustments and modifications on the 740. The 742 was born.

The power output of 883 kW and a maximum speed of 90 kph predetermined this locomotive mostly for freight or shunting service.
You can identify the locomotive by its long "nose", the sound of a fast-running diesel engine and the cabin with only a side view option. Fun fact - the engineer has to move from one side of the cabin to the other – he wouldn't be able to see to left curves otherwise.

Over 450 locomotives were built until 1986. The machine, who nobody counted with and which should have been made only in small numbers. In the end, the 742 was the most frequent loco you could see at every railway station. And maybe even in Bangladesh, which provided the nickname (abbr. "Bangle") and where the locomotive was intended for export.
NOT SURE WHAT SIZE TO CHOOSE? LET US HELP YOU.
Find a meter. Take your favourite T-shirt out of the closet and compare it with our size chart.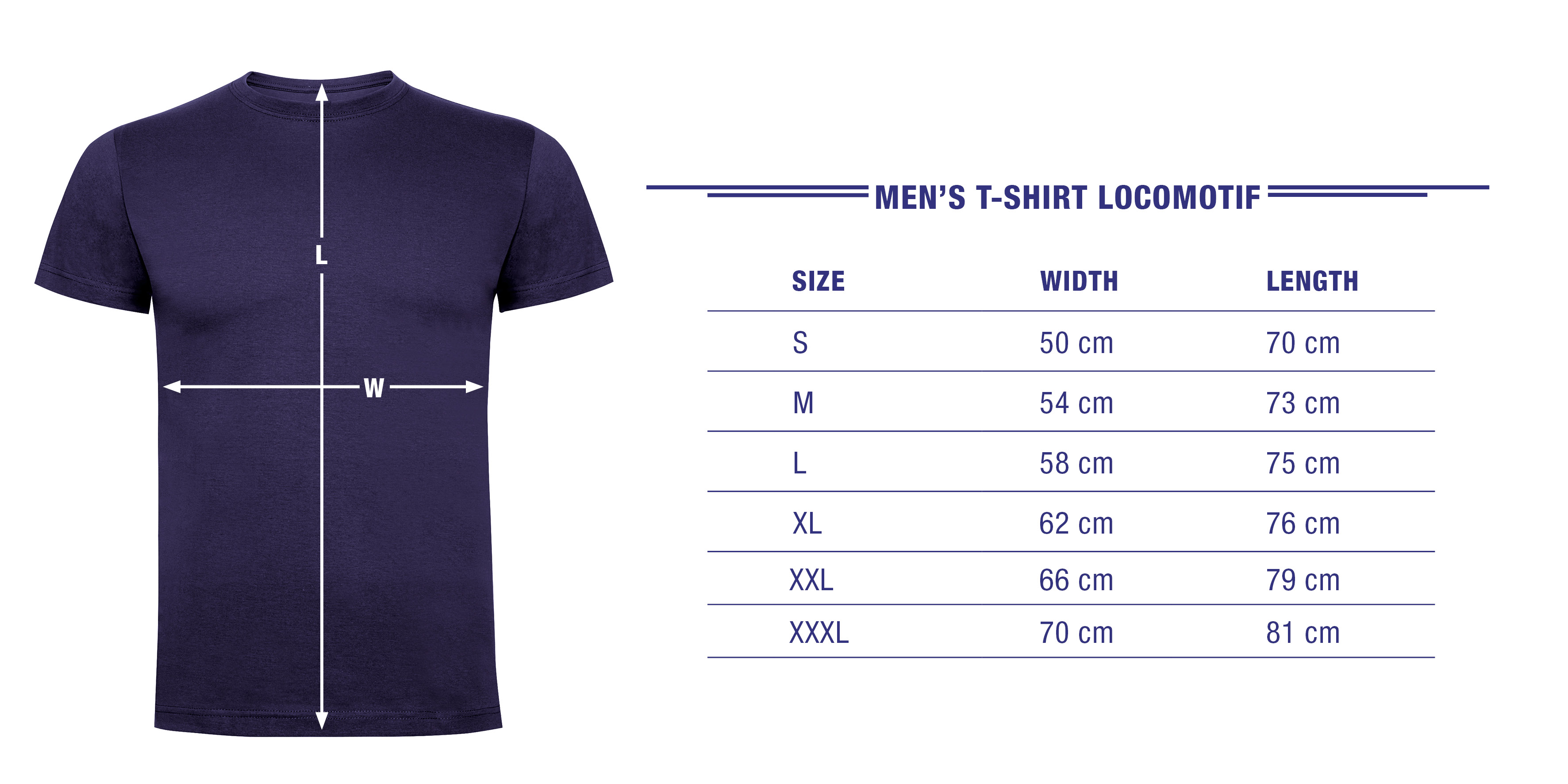 T-SHIRT DESCRIPTION:
T-shirt pleasant to the touch, in which you will feel comfortable thanks to its composition and smooth knit, whether in summer or winter. The T-shirt has a reinforced four-layer neckline and reinforced seams on the shoulders, which ensure that the T-shirt keeps its shape even after multiple washes. T-shirt that must not be missing in any closet of a train enthusiast.
Material: 100% cotton
Weight: 165 g/m2
Colour: dark blue
Front side: Locomotive print
Back side: Small Locomotif logo print
Be the first who will post an article to this item!
Locomotif is our own brand we use for all items in this e-store.
We are focused on high-quality materials, original graphic design and durable printing techniques.
Apparel fabric standards: OEKO-TEX STANDARD 100, OSC 100, ILO and other