Men's T-shirt ORCHESTRION
M152 railcar, which was renamed in 1988 to Class 810. Vehicle of many contradictions. Popular and cursed at the same time. Vehicle of many nicknames such as "Skleník" (Greenhouse – windows everywhere), "Autobus" (Bus – the front of the body and side windows resemble Karosa Š11 buses, have the same LIAZ engine and Praga transmission), "Kufr" (Suitcase – for its shape), "RegioMouse" (name from Czech Railways), "Šukafon", and so on…
Category

:

Men's T-Shirts
Gender / user

:

Men
Item type

:

T-Shirt
Machine type

:

Motor unit
Power

:

Diesel
We cannot deny it one thing, however – as a successor of "Hurvínek", which was produced after the war, it dominated local train lines. The home of "Orchestrion" is the Vagónka Studénka plant, which made the first prototype in 1970. Between 1973–1984, the plant sent a respectable total of 680 vehicles to local train lines.
What did the passengers appreciate? Automatically closing doors. What did the driver appreciate? A driver's station separated from the passenger compartment by a wall.
One of its disadvantages was the water-cooled diesel engine, which was of course a problem in the cold. It had to be either under a roof or heated. It had and will always have a lot of pros and cons. A lot of fans and naysayers. We are rooting for it and that is why it has its place with us.
The ORCHESTRION railcar was painted for us by Martin Přikryl aka Matys, who kind of fulfilled his dream and transferred his train from the canvas to textile. He also showcased the T-shirts and hoodies on himself. We would like to thank both him and Kolej-Klub, which allowed us to take pictures for our collection with their railcar in Turnov.
NOT SURE WHAT SIZE TO CHOOSE? LET US HELP YOU.
Find a meter. Take your favourite T-shirt out of the closet and compare it with our size chart.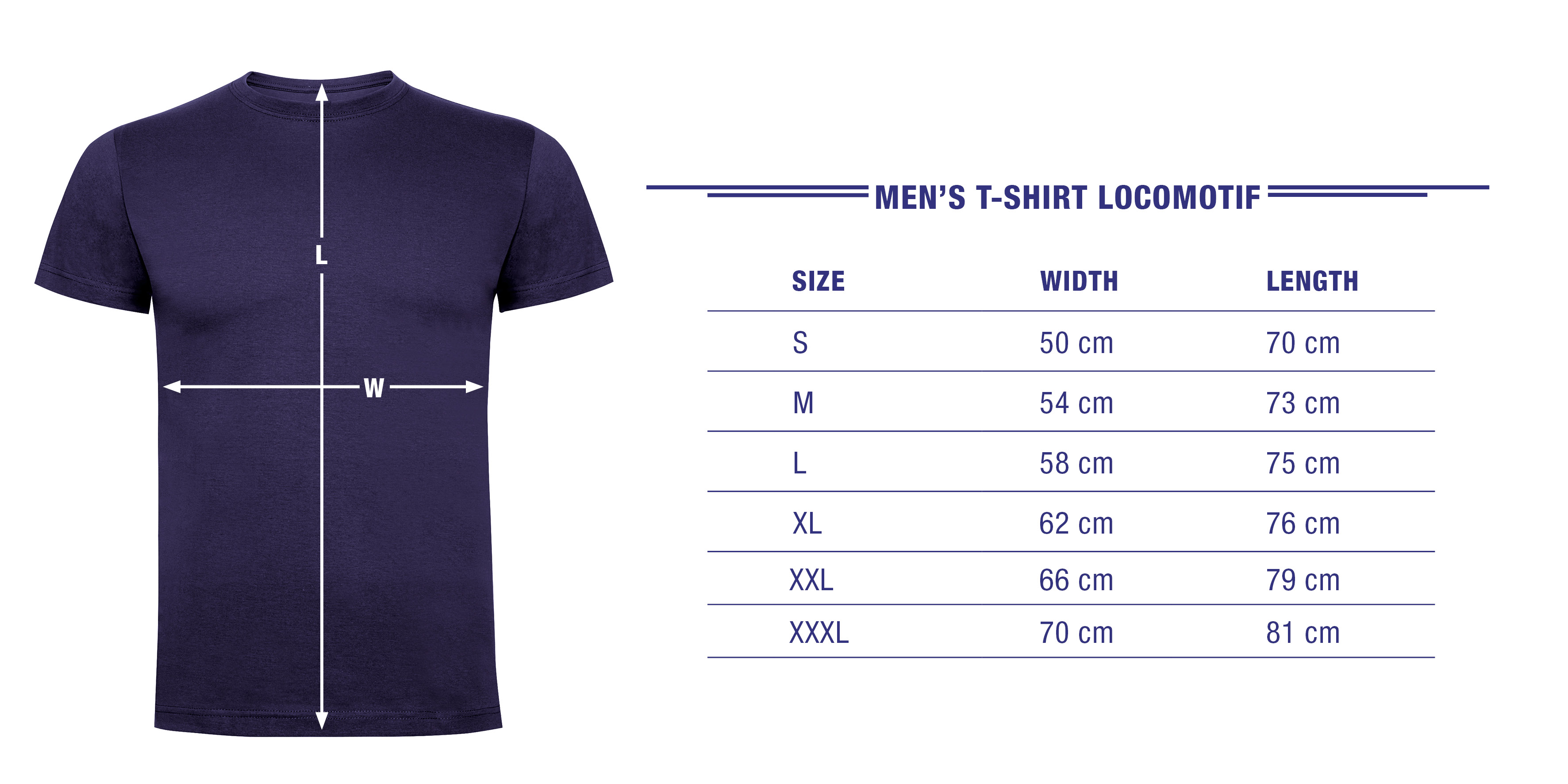 T-SHIRT DESCRIPTION:
T-shirt pleasant to the touch, in which you will feel comfortable thanks to its composition and smooth knit, whether in summer or winter. The T-shirt has a reinforced four-layer neckline and reinforced seams on the shoulders, which ensure that the T-shirt keeps its shape even after multiple washes. T-shirt that must not be missing in any closet of a train enthusiast.
Material: 100% cotton
Weight: 165 g/m2
Colour: dark red, dark blue, anthracite, black
Front side: Locomotive print
Back side: Small Locomotif logo print
MK
Marc Kukowsky
Sehr zufrieden. Es passt und sieht gut aus. Tolles Motiv.
Locomotif is our own brand we use for all items in this e-store.
We are focused on high-quality materials, original graphic design and durable printing techniques.
Apparel fabric standards: OEKO-TEX STANDARD 100, OSC 100, ILO and other