Color: Dark Blue, Size: S
IN STOCK
| 935/S
Color: Dark Blue, Size: M
TO ORDER: 4 weeks
| 935/M
Color: Dark Blue, Size: L
IN STOCK
| 935/L
Color: Dark Blue, Size: XL
IN STOCK
| 935/XL
It is 1891 and for the occasion of the Jubilee Country Expo in Prague, the cable car and the Petřín observatory tower were opened. At that time, the cableway had a different shape and route than today (Nebozízek middle station wasn't there yet). The funicular consisted of two cars supplied by Ringhoffer, which worked on the principle of water counterbalance.
In 1932, mainly due to the 70th Sokol annual union and the number of incoming visitors, the cable car was modernised, electrified and extended. The Nebozízek middle station was opened. The updated elegant carriages were supplied again by Ringhoffer.
In 1965, due to extensive rains, a landslide occurred on Petřín hill and the cableway body was seriously damaged. The transport company had planned a major reconstruction and completely new cars, that would be built on the original chassis. In the end, it took 20 years for this operation to finish. Since 1985, the funicular has been in operation without major changes to this day. The new green/cream cars were supplied by Vagonka Studénka in cooperation with the machinery in Poprad and Česká Lípa.
It's worth mentioning that the next modernisation and delivery of completely new carriages are going to happen in near future. One of the existing carriages is going to be repaired and stored as a showcase in the Museum of public transport in Prague.
NOT SURE WHAT SIZE TO CHOOSE? LET US HELP YOU.
Find a meter. Take your favourite T-shirt out of the closet and compare it with our size chart.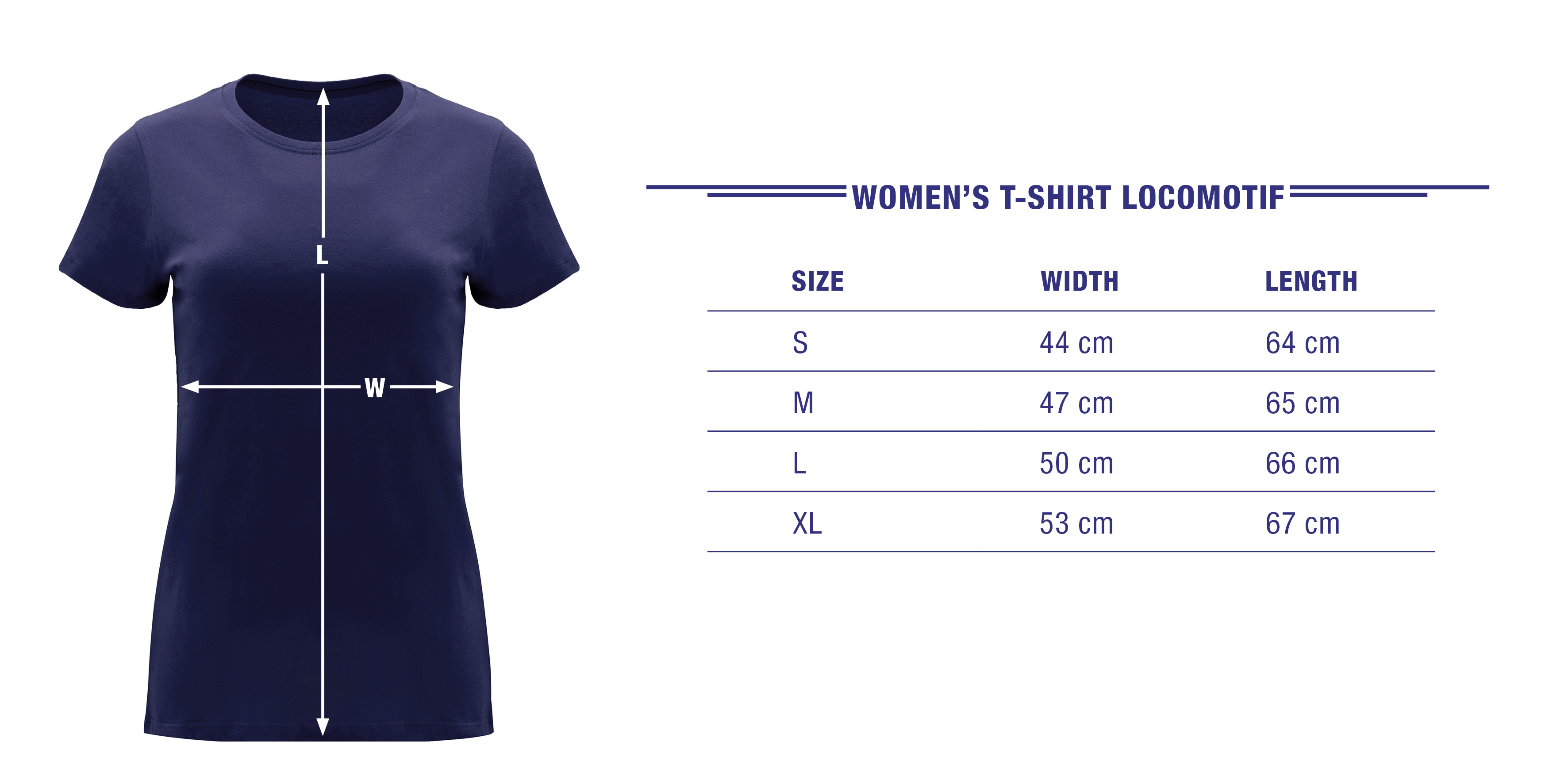 T-SHIRT DESCRIPTION:
T-shirt pleasant to the touch, in which you will feel comfortable thanks to its composition and smooth knit, whether in summer or winter. The T-shirt has a reinforced four-layer neckline and reinforced seams on the shoulders, which ensure that the T-shirt keeps its shape even after multiple washes. T-shirt that must not be missing in any closet of a train enthusiast.
Material: 100% cotton
Weight: 165 g/m2
Colour: dark blue
Front side: Cable Car print
Back side: Small Locomotif logo print
Be the first who will post an article to this item!
Locomotif is our own brand we use for all items in this e-store.
We are focused on high-quality materials, original graphic design and durable printing techniques.
Apparel fabric standards: OEKO-TEX STANDARD 100, OSC 100, ILO and other