Men's T-shirt GUMMINASE
Completely ugly for some and stunningly beautiful for others. Maybe. Anyway, the Gumminase (rubber nose) has unmistakably a spot in the trainspotters' heart.
Category

:

Men's T-Shirts
Gender / user

:

Men
Item type

:

T-Shirt
Machine type

:

Motor unit
Power

:

Diesel
The motor unit DSB MF (IC3) has been serving since 1989. It's well known especially thanks to its characteristic design and also several specialities. By default, it's a three carriage motor unit. But thanks to the foldable engineer's cabin, the train can be extended up to 5 carriages. The front and the rear of the train is characterized by a rubber diaphragm, which stays inflated during service and collapses only when more units are coupled together.
The unit consists of two motor carriages (front and rear) and one passenger unit in the middle. Similarly to Žralok (PESA) train, Gumminase uses Jacobs bogies shared between carriages. A total of four diesel engines today produce 1320 kW of power. And because the main requirement for the train was an efficient acceleration between stops, the top speed is only 180 km/h.
You can see and meet Gumminase (and its relatives, ie. IC4) in Denmark, Germany, Sweden, Spain and also in Israel.
NOT SURE WHAT SIZE TO CHOOSE? LET US HELP YOU.
Find a meter. Take your favourite T-shirt out of the closet and compare it with our size chart.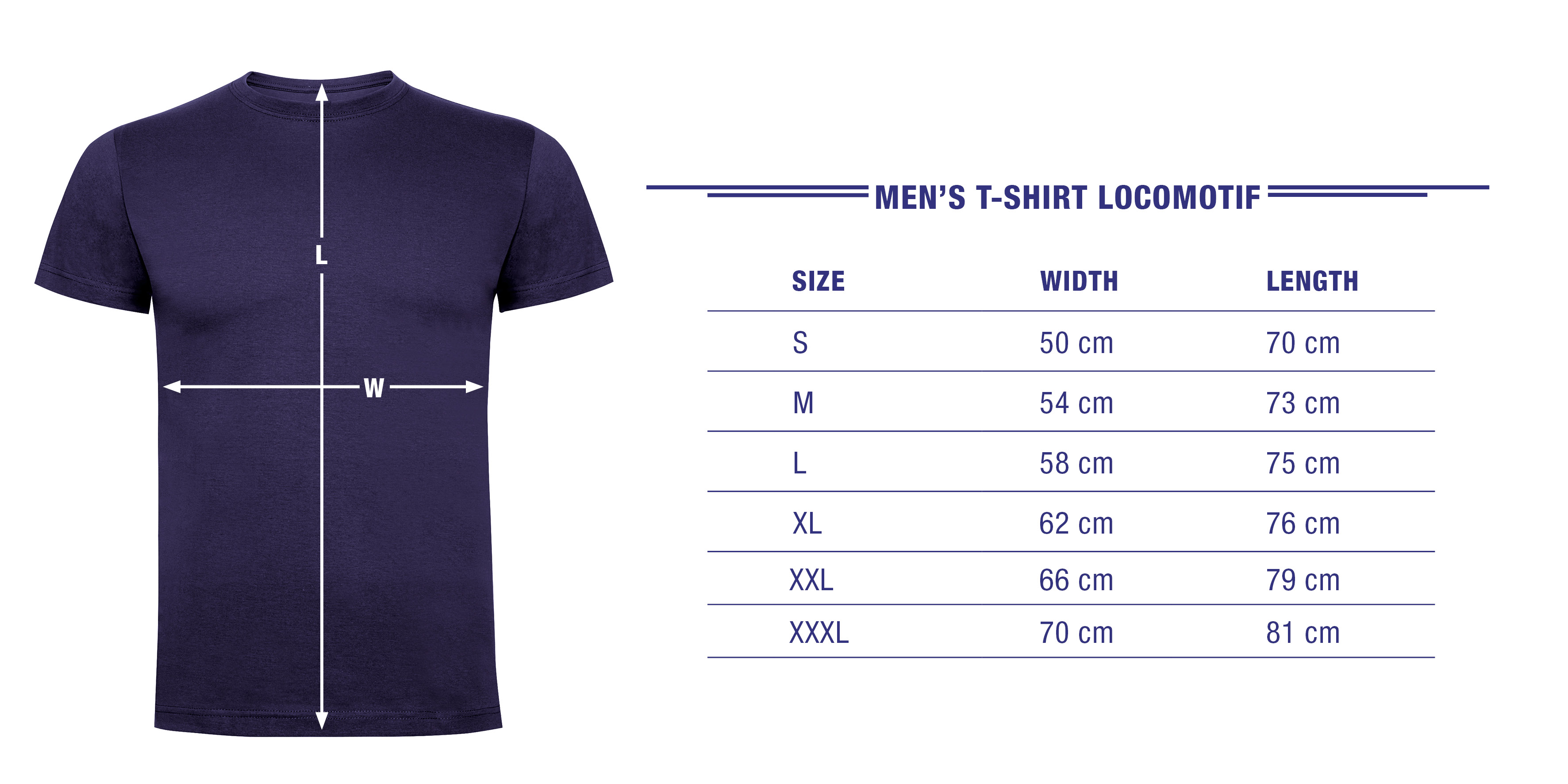 T-SHIRT DESCRIPTION:
T-shirt pleasant to the touch, in which you will feel comfortable thanks to its composition and smooth knit, whether in summer or winter. The T-shirt has a reinforced four-layer neckline and reinforced seams on the shoulders, which ensure that the T-shirt keeps its shape even after multiple washes. T-shirt that must not be missing in any closet of a train enthusiast.
Material: 100% cotton
Weight: 165 g/m2
Colour: dark blue, dark red, black, anthracite
Front side: Locomotive print
Back side: Small Locomotif logo print
Be the first who will post an article to this item!
Locomotif is our own brand we use for all items in this e-store.
We are focused on high-quality materials, original graphic design and durable printing techniques.
Apparel fabric standards: OEKO-TEX STANDARD 100, OSC 100, ILO and other