Men's pullover hoodie METRO 81-71
A Briquette or Black face. Different nicknames represent a legend and a symbol of the underground transportation within CEMA.
Color: Black, Size: S
TO ORDER: 4 weeks
| 962/S
Color: Black, Size: M
IN STOCK
| 962/M
Color: Black, Size: L
IN STOCK
| 962/L
Color: Black, Size: XL
IN STOCK
| 962/XL
Color: Black, Size: XXL
IN STOCK
| 962/XXL
From Prague to Novosibirsk, from St. Petersburg to Yerevan. The unmistakable sound of this train turns almost every subway fan crazy. This is the iconic metro unit 81-71. Produced in several series by Metrowagonmesh in Mytishchi, Russia.
Prague underground system started its service on May 9th 1974 with the original Russian train units "Ezh". For the new metro line A, however, which publicly opened in 1978 and was more demanding due to numerous ascends, the Prague transportation office asked for a more powerful metro unit. Shortly after, the new 81-71 model was produced. This model, besides Prague, was serving in many other socialistic cities across CEMA.
The 81-71 became a globetrotter. The train units and their later modifications were delivered to cities like Warsaw, Budapest, Sofia, Kyiv, Charkov, Tbilisi, Yerevan, Baku, Minsk, Moscow, Samara and also Novosibirsk. One of the units also appeared in Tehran.
For many years, 81-71 became a symbol of the metro in the eastern part of Europe. Thanks to its characteristic sound and whining noise, the trains could be heard in distance, especially in the stations. Nowadays, the units still run in Prague (and probably everywhere else) but are being deprecated slowly and also replaced by newer or modernized units.
NOT SURE WHAT SIZE TO CHOOSE? LET US HELP YOU.
Find a meter. Take your favourite hoodie out of the closet and compare it with our size chart.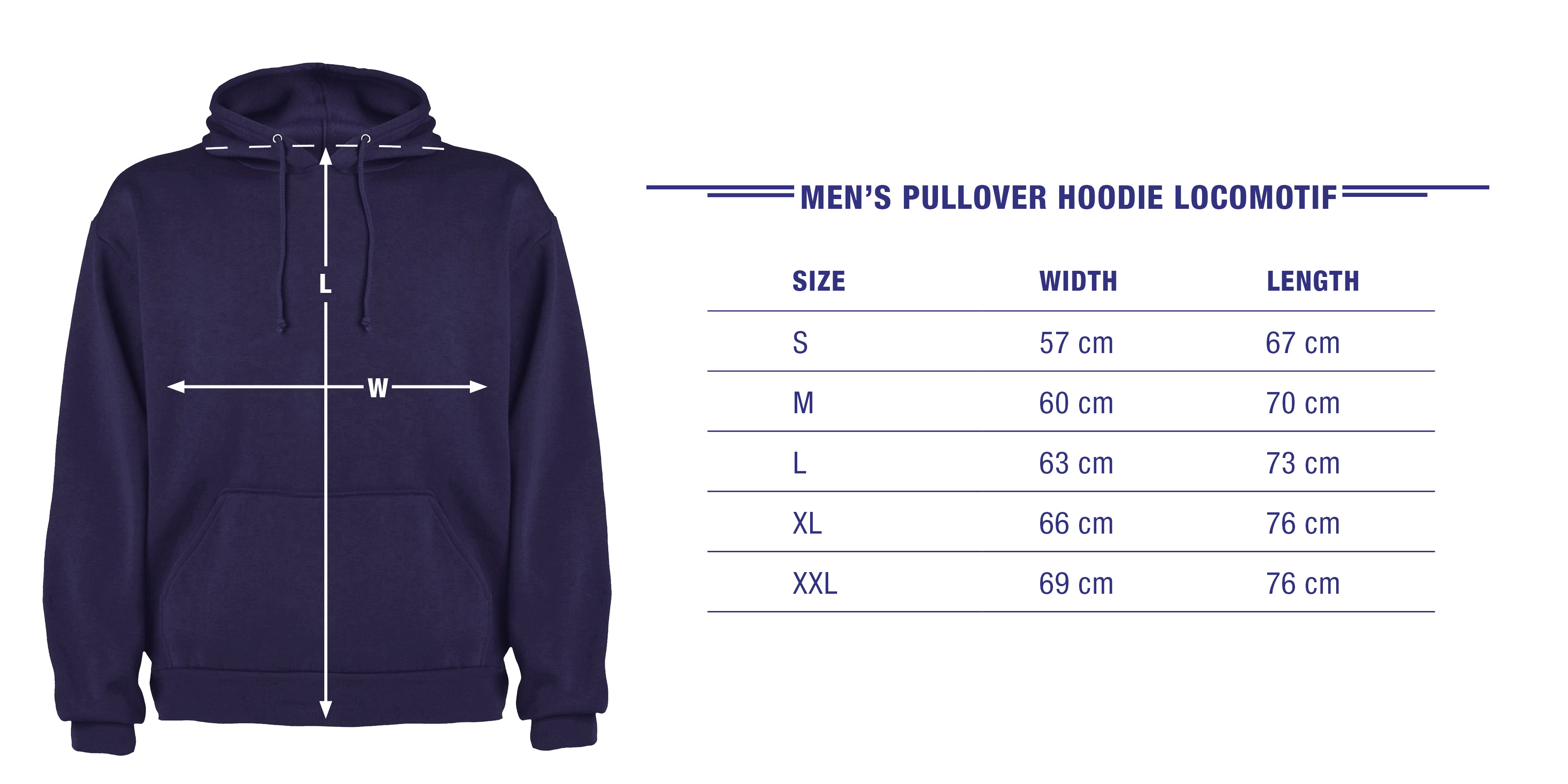 DESCRIPTION:
Men's pullover hoodie with a kangaroo pocket. It is pleasant to the touch and will always make you comfortable and warm thanks to its composition and smooth knit. An elastic neckline makes the hoodie easy to put on and also maintains shape. The sleeves and the bottom edge of the hoodie are lined with rib knit. This hoodie must not be missing in the closet of any true train enthusiast.
Material: 65% polyester +35% cotton or 50% polyester +50% cotton.
Knit: smooth knit, combed inside
Weight: 280 g/m2
Colour: black
Front side: Metro
Upper side of the left sleeve: Small Locomotif logo print
Be the first who will post an article to this item!
Locomotif is our own brand we use for all items in this e-store.
We are focused on high-quality materials, original graphic design and durable printing techniques.
Apparel fabric standards: OEKO-TEX STANDARD 100, OSC 100, ILO and other