Men's zip hoodie NOHAB
The Swedish manufacturer Nydqvist och Holm AB might not sound familiar. But its acronym – NOHAB – surely will. This was the place, where new locomotives – based on American EMD F machines – were produced under GM license. The locomotives are generally known as "Nohab".
Color: Dark Blue, Size: S
TO ORDER: 4 weeks
| 782/S
Color: Dark Blue, Size: M
TO ORDER: 4 weeks
| 782/M
Color: Dark Blue, Size: L
TO ORDER: 4 weeks
| 782/L
Color: Dark Blue, Size: XL
TO ORDER: 4 weeks
| 782/XL
The EMD F machine was a trustworthy piece of engineering and one of the reasons, why many European countries considered this machine as an option for non-electric railways. During the '50s and '60s, Swedish manufacturer NOHAB produced over 200 pieces in different variations, based on the country-specific requirements. The locomotives then went to i.e. Denmark, Belgium, Norway, Sweden, and also Hungary.
Nohab was classified as M61 in Hungary and as said before, it took over the express passenger service on non-electric tracks. The locomotive offered 1435 kW of power and a maximum speed of 105 km/h. As Wikipedia says – the licensed M61 was basically one of the only US products, that managed to get over the Iron curtain. Hence - it was a kind of symbolic machine.
However – after the first 20 delivered locomotives, the Hungarian railway company (MÁV) had to divert from the course and start purchasing from CEMA. On a positive note - many of those M61 machines are still functioning and you can meet them on special railway occasions or events. Presumably not only in Hungary.
NOT SURE WHAT SIZE TO CHOOSE? LET US HELP YOU.
Find a meter. Take your favourite hoodie out of the closet and compare it with our size chart.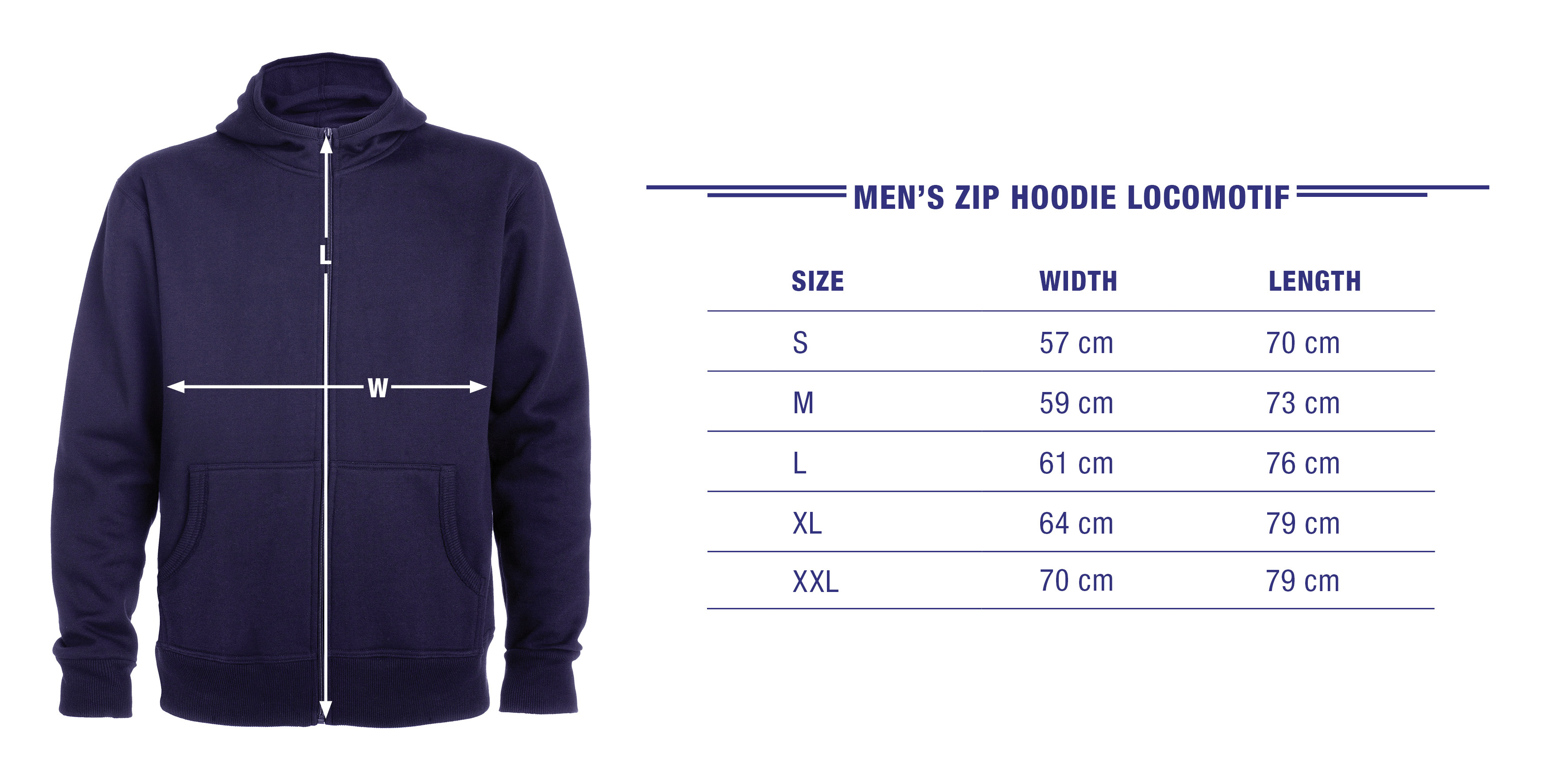 DESCRIPTION:
Men's zip hoodie with two pockets. It is pleasant to the touch and will always make you comfortable and warm thanks to its composition and smooth knit. The hood, pockets and bottom edge of the hoodie are lined with rib knit. This hoodie must not be missing in the closet of any true train enthusiast.
Material: 65% polyester +35% cotton or 50% polyester +50% cotton.
Knit: smooth knit, combed inside
Weight: 280 g/m2
Colour: dark blue
Front side: Small Locomotif logo print
Back side: Locomotive print
Be the first who will post an article to this item!
Locomotif is our own brand we use for all items in this e-store.
We are focused on high-quality materials, original graphic design and durable printing techniques.
Apparel fabric standards: OEKO-TEX STANDARD 100, OSC 100, ILO and other