Women's T-shirt ČTYŘKOLÁK
"Vršovický Čtyřkolák" or for someone simply "Dvojka". Locomotive, which was created in 1936 by the reconstruction of Class 434.0148. During its long steam life, which still is not over, it experienced the horrors of World War 2 and was somewhat overshadowed by "Sergej" and "Bardotka" locomotives. It was reliable in both freight and passenger transport, for example between Prague and Nymburk. And last but not least, it puffed majestically on the Sázava track to the sound of tramping music.
Category

:

Women
Gender / user

:

Women
Item type

:

T-Shirt
Machine type

:

Locomotive
Power

:

Steam
Color: Dark Blue, Size: S
IN STOCK
| 416/S
Color: Dark Blue, Size: M
IN STOCK
| 416/M
Color: Dark Blue, Size: L
IN STOCK
| 416/L
Color: Dark Blue, Size: XL
IN STOCK
| 416/XL
The original locomotive was manufactured in 1917 at the Breitfeld & Daněk plant in Slaný. During its reconstruction in 1936, it was upgraded from a compound two-cylinder wet-steam locomotive to twin-cylinder superheated-steam. The distinctive features of "Čtyřkolák" are the smoke box, which extends in front of the carrier axle, and the pipes that are bent obliquely backwards towards the cab and down to the walkway.
We also have to mention two more gentlemen who helped Čtyřkolák get on the track. The first is Karl Gölsdorf, who was the chief designer at the Austrian state railway and replaced the twin-cylinder steam engine with a compound steam engine via so-called split expansion. The second is Wilhelm Schmidt, who invented the steam superheater and thus increased the efficiency of steam locomotives by up to 30%. And hundreds of other, ordinary people with a love of railways.
It is incredible how much this locomotive has seen from the tracks over its existence, which is still ongoing. How many people has this machine outlive and will outlive. Theoretically, it could have carried my great-grandmother, my grandmother, my mother, me and my daughter.
NOT SURE WHAT SIZE TO CHOOSE? LET US HELP YOU.
Find a meter. Take your favourite T-shirt out of the closet and compare it with our size chart.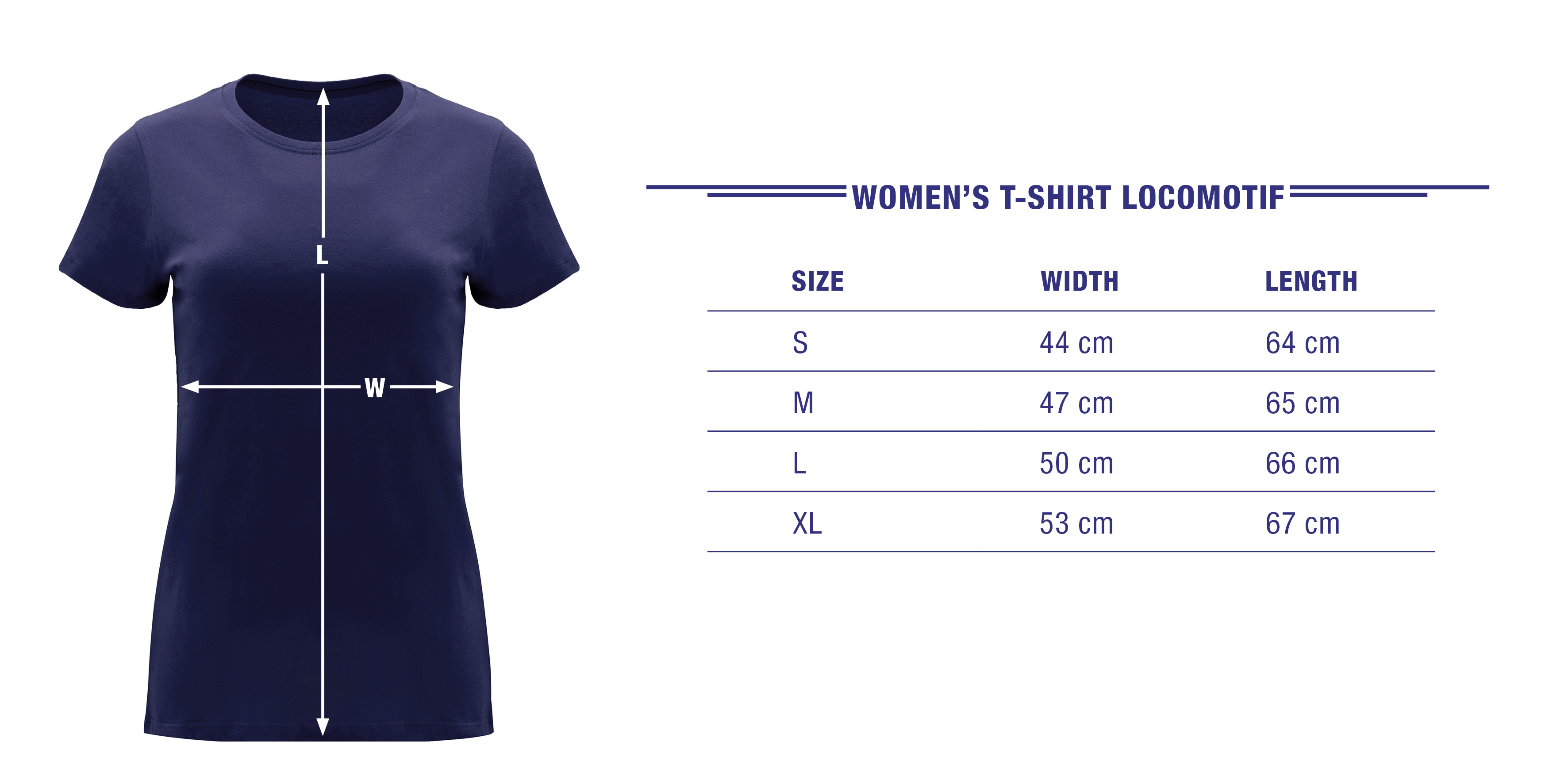 T-SHIRT DESCRIPTION:
T-shirt pleasant to the touch, in which you will feel comfortable thanks to its composition and smooth knit, whether in summer or winter. The T-shirt has a reinforced four-layer neckline and reinforced seams on the shoulders, which ensure that the T-shirt keeps its shape even after multiple washes. T-shirt that must not be missing in any closet of a train enthusiast.
Material: 100% cotton
Weight: 165 g/m2
Colour: dark blue
Front side: Locomotive print
Back side: Small Locomotif logo print
Be the first who will post an article to this item!
Locomotif is our own brand we use for all items in this e-store.
We are focused on high-quality materials, original graphic design and durable printing techniques.
Apparel fabric standards: OEKO-TEX STANDARD 100, OSC 100, ILO and other